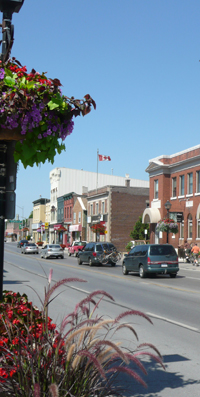 The Town of Aurora is a growing community with over 1,300 businesses, including approximately 150 major industries and head offices. A strong entrepreneurial community is located within the town.
Aurora's has continued to grow recently with the opening of the corporate head office of State Farm Insurance and the Hallgrove Business Park. The town is committed to economic growth with a ready supply of employment lands and a new premier Business Park in the Leslie Street and Highway 404 area.
The advantages of doing business in Aurora are numerous.
Established and developing employment parks are connected by efficient regional rail, transit and road systems. The historic downtown core on Yonge Street is supplemented by a wide variety of retail outlets and office centres.
Aurora's location offers all the advantages of an urban centre while maintaining its small town atmosphere. Portions of the Town exist within the environmentally-significant Oak Ridges Moraine, which provides rolling terrain, rich valley land and large forest tracts.
There are outstanding opportunities for business growth with an active Chamber of Commerce and a supportive, cooperative municipal government.
Aurora is a scenic and friendly Town with a rich cultural heritage, recreational facilities and neighbourhoods. An ideal place to live and grow a business.
To download our full Community Profile document,
please click here
, or view selected quick facts below.
Aurora

Area

49 km²

Population (year-end 2018)

62,000

Business Costs and Information

Development Charges

(Jan 2019)

$291.44 per square metre for industrial, office, and institutional

$621.49 per square metre for retail

(includes regional and education portions for all above)

Property Taxes (2018)

1.769489% Commercial (including office buildings and shopping centres)
2.065691% Industrial (including large industrial)

Water Rates

(May 2018)

$2.01 per cubic meter of water consumption
$2.72 per cubic meter of wastewater consumption
$4.73 per cubic meter of combined consumption

Storm Sewer Rates

(May 2018)

$67.07 per metre monthly, or

$134.04 per metre bi-monthly

Electrical Power

PowerStream (div of Alectra Utilities) (905) 417-6900

Business Rates & Energy Savings for Business

Natural Gas

Enbridge Gas 1-800-362-7434

For Business page

Technology

Rogers Communications 1-866-431-4642

Bell Canada 310-2355

Labour

Employment Rate

68.4%

Resident Labour Force

31,100

Labour Shed Work Force

2 million

Housing & Income

Average Household Income (2015)

$147,604

Average Resale Housing Cost (All Home Types, 2018)

$902,358
Aurora Profile
Town of Aurora's Community Profile
PDF
Download